We at Unrivalled Security, do not endeavour to try our best to meet your expectations, it's guaranteed – Excellence as standard when it comes to our clients, we pride ourselves on our bespoke services for events ensuring all requests are met with precision.
Organising an event can be a stressful job, whatever the event you are hosting, whether it be a private function of a family and friends or a large corporate event – small or large, you can never be too prepared, which is why security is a must amongst other things you need to factor.
When our team is in play there is one less thing for you to worry about. We believe Security should infuse you with confidence and you always feel at ease when our team is in action as the safety of your guests is paramount to us.
We hand select our officer to ensure they are the best for your event, they are confident and trained to deal with all nature of occurrences that may take place, they will deal with the situation in hand with diligence. You will know our officer are there to help your event go seamlessly, however they will always remain discreet and nonintrusive.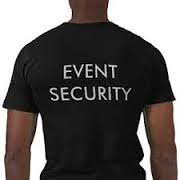 Our SIA security officer's duties include (where required)

Crowd marshalling and exit management strategies


Entrance checks on guest (including monitoring ticketing, guest –lists and capacity numbers)


Site security checks


Conflict management.